WebBeds parent company, Webjet Limited, (ASX:WEB) today announced its financial results for FY23, with organic growth driving record Bookings and TTV; and the Group's Bookings, TTV, Revenue and EBITDA for 2H23 are all ahead of pre-pandemic levels, driven by WebBeds.
Webjet Limited delivers underlying FY23 EBITDA of $134.8 million, reflecting $150 million turnaround from FY22 (FY22: underlying loss of $15 million)
2H23 Bookings, TTV, Revenue and EBITDA all ahead of pre pandemic levels driven by WebBeds
WebBeds ahead of pre pandemic levels on all key metrics for FY23 with momentum accelerating in 2H23 – FY23 EBITDA $117.1 million was 22% ahead of pre pandemic levels; 2H23 EBITDA was 130% ahead of pre pandemic levels; FY23 EBITDA margin 49.5%
Webjet OTA seeing strong rebound in international – continues to gain market share although high prices and capacity constraints continue to subdue overall bookings. FY23 EBITDA $43.4 million (71% of pre pandemic levels); EBITDA margin 40.3%
GoSee profitability increasing – FY23 EBITDA $1.6 million, up $4.6M over FY22; continues to be impacted by lack of inbound tourism and supply chain issues in its largest markets

Strong cash position

– $514 million cash as at 31 March 2023 after repaying $86 million bank debt

Significant growth opportunitiesin all business and strong start to FY24 trading
Webjet Limited Result.


FY23 saw Webjet Limited Bookings, TTV, Revenue and EBITDA all up significantly compared to the same period last year. FY23 Group Bookings and TTV were ahead of pre pandemic levels. In the second half of FY23, Group Bookings, TTV, Revenue and EBITDA all exceeded the same period pre pandemic.


Commenting on the result, Webjet's Managing Director John Guscic said:
"Webjet has emerged from the pandemic better placed to deliver growth than even before. Even though travel has yet to fully return to what it was, in the second half of FY23 we saw Group Bookings, TTV, Revenue and EBITDA all ahead of where they were when the pandemic hit. This reflects all the efforts we took to make sure we would not only recapture demand when travel returned, but also further accelerate our growth profile.
The key driver of these results has been the outstanding performance of the WebBeds business. Executing against our transformation strategy is paying off – we have retooled that business, streamlined the technology platform, eliminated inefficiencies and found ways to service markets that had not previously been open to us. WebBeds is now selling more product to more customers and is more profitable than it ever has been – and this is just the beginning. In transforming WebBeds, a number of attractive and highly profitable opportunities are now open to us. By continuing to find ways to get closer to our supply partners and better understand client preferences, in the longer term we believe WebBeds can deliver $10 Billion TTV while continuing to deliver best-in-class EBITDA margins.
Both B2C businesses – Webjet OTA and GoSee – continue to be impacted by external factors, specifically airline capacity constraints and subdued demand due to resulting higher prices but are well placed to deliver growth once international capacity returns to 2019 levels. Webjet OTA has maintained the significant market share gains it has seen in the domestic flights market and we are now seeing material uplift in international share as capacity starts to come back. We are particularly excited about the opportunities we see for Webjet OTA in the international flights market. Lower commissions have reduced the number of competitors and we believe Trip Ninja will be a key building block to continuing international growth. Still in the early stages of being rolled out, Trip Ninja technology is already providing our customers a real price advantage for international multi-stop itineraries.
We are confident GoSee will exceed pre-pandemic profitability in the medium term. Until then we are investing in building team capabilities and world class scalable technology to pursue growth once airline capacity is fully restored and motorhome supply levels return to normal.
We have seen a strong start to FY24. For the first seven weeks of trading, WebBeds Bookings and TTV are more than 35% and 40% higher respectively than for the same period in last year. Webjet OTA is also delivering a solid performance with Bookings and TTV up more than 10% and 30% on the prior year. GoSee's Bookings and TTV are up more than 15% and 5%.
There is still widespread uncertainty in the global economy but we have never been more excited for our future. Momentum in the WebBeds business is accelerating, Webjet OTA has significant international potential, and GoSee is laying the foundations to pursue growth in the global motorhome and car rental markets."
WebBeds Performance.


Commenting on WebBeds performance, WebBeds CEO Daryl Lee said:
"Prior to the Pandemic, WebBeds was the fastest growing B2B provider in our category, and when the pandemic hit, we knew it was critical for our business to transform to ensure we were in an agile enough position to support our customers during a time when travel markets were hyper-fluid in nature. It's gratifying to see the hard work of our team in accelerating many of our longer term strategic initiatives starting to pay off. It means we are delivering on our goals to provide Value, Choice and Control to our customers.
The WebBeds Global Marketplace significant distribution reach, and our balanced, diversified portfolio across all travel buyer segments represents a terrific opportunity for hotels to reach new markets, and our worldwide contracting team are doing an exceptional job strengthening hotel relationships. Our commercial teams on the ground all over the world have worked incredibly hard to ensure our offering is market suitable and can flex when required. And our technology and operational teams have delivered transformational innovations and initiatives that, simply, make it easier to work with us. Jointly, this has culminated in 5.8 million bookings this financial year – or an average of a booking every 5.4 seconds.
Our growth has been broad base, we are selling more hotels to more people in more markets than ever before, and this is happening even with the key China market yet to fully return. Our focus on growth in the Americas market has yielded great results and is now 3 times bigger than it was pre-pandemic and will continue to be a growth focus for us."

WebBeds FY23 Result.
FY23 Bookings, TTV, Revenue and EBITDA were all ahead of pre-pandemic levels (CY19), reflecting the result of the various transformation initiatives put in place when the pandemic hit. FY23 TTV reflected lower average booking values due to a changing business mix. Expenses continue to be lower than pre-pandemic reflecting the continued focus on driving efficiencies. FY23 EBITDA was up 22% compared to pre-pandemic levels, with 2H23 EBITDA up 130% compared to the same period pre-pandemic, reflecting market share growth and scalability coming through. FY23 EBITDA margin at 49.5% was materially higher than pre-pandemic levels.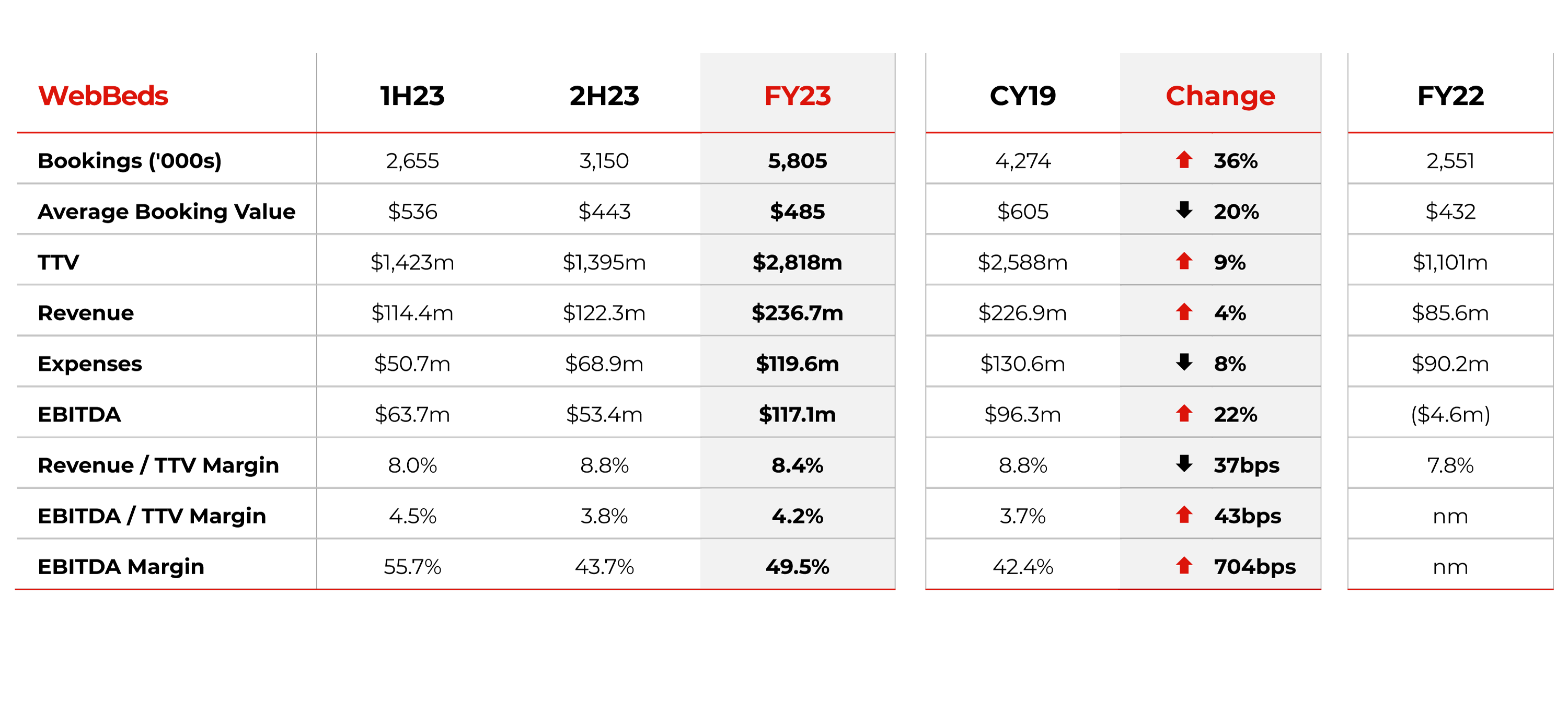 Full information on Webjet Limited's FY23 financial performance is available at www.webjetlimited.com
Downloads
ASX Release: Webjet Limited FY23 Results
Webjet Limited FY23 Investor Presentation
Webjet Limited FY23 Annual Report
Webjet Limited FY23 Sustainability Report
View the Webcast: FY23 Results – Managing Director's Presentation
Webjet Limited Investor Relations 
Carolyn Mole                  
Partner with WebBeds
Hotels: Find out more here.
Travel Buyers: Find out more here.
For more information about this story, please contact [email protected]