WebBeds Americas have released some fantastic offers to our trade partners for sale in Florida, with offers at a number of conveniently located beach properties in advance of return to school, and beyond.
These offers are available to WebBeds travel trade partners globally through our DOTW and Sunhotels booking sites, or through through those platforms API booking feeds. If you are not a WebBeds partner yet and would like to access this content and more 430,000 hotels globally, find out how to join us.
Sunseeker Resort – 15% off

Experience the finest in Florida Hospitality – Opening October 16th 2023.
Brand new property located on the water in Port Charlotte, Sunseeker Resort Charlotte Harbor brings breezy Florida resort life within easy reach. Here, awe-inspiring accommodations are the norm. Their Premium Guest Rooms and Signature Sunsuites™ feature designer furnishings and finishes, stunning views of Charlotte Harbor and the Peace River, and spacious areas where you can relax in total comfort.
15% off – minimum 3 nights
Booking Window: 8/7/2022 – 8/31/2023
Travel Window: 10/16/2023 – 12/20/2023
---
Reefhouse & Marina – 10% off

Embrace the Laid-Back Luxury of this Beautiful Key Largo Resort & Marina
Unwind in style in chic waterfront accommodations. Each guestroom and suite has been thoughtfully designed to reflect the coastal setting, with blue- and sand-colored accents, an abundance of natural light, and cozy fabrics in neutral, calming tones. Start and end your day on your private balcony, with spectacular views of the bay.
10% off – minimum 2 nights
Booking Window: 8/7/2022 – 9/05/2023
Travel Window: 2023
---
EVEN Hotel Sarasota, Lakewood Ranch – 10% off

Wellness within reach at the Sarasota Wellness Hotel
Whether you're in town for a family vacation at the beach, a business meeting, or a soccer tournament at Premier Sports Campus, EVEN Hotel Sarasota-Lakewood Ranch is just a short drive away from Siesta Key, downtown Sarasota and the Sarasota Bradenton International Airport (SQR).
This hotel is also located near Lakewood Ranch, a buzzing community with great shopping and dining options, the Lakewood Ranch Medical Center and other sites of interest. Shop at The Mall at University Town Center. Explore life under the sea at Mote Marine Laboratory and Aquarium, or venture out to Bradenton.
After a fun day, maintain your fitness routine with complimentary in-room fitness equipment, or at the best-in-class fitness studio. Plus, enjoy free Wi-Fi, and free parking. No matter how you decide to spend your time, enjoy your stay at the Sarasota wellness hotel.​
10% off – minimum 2 nights
Booking Window: 8/7/2022 – 8/31/2023
Travel Window: 8/7/2023 – 12/31/2023
---

---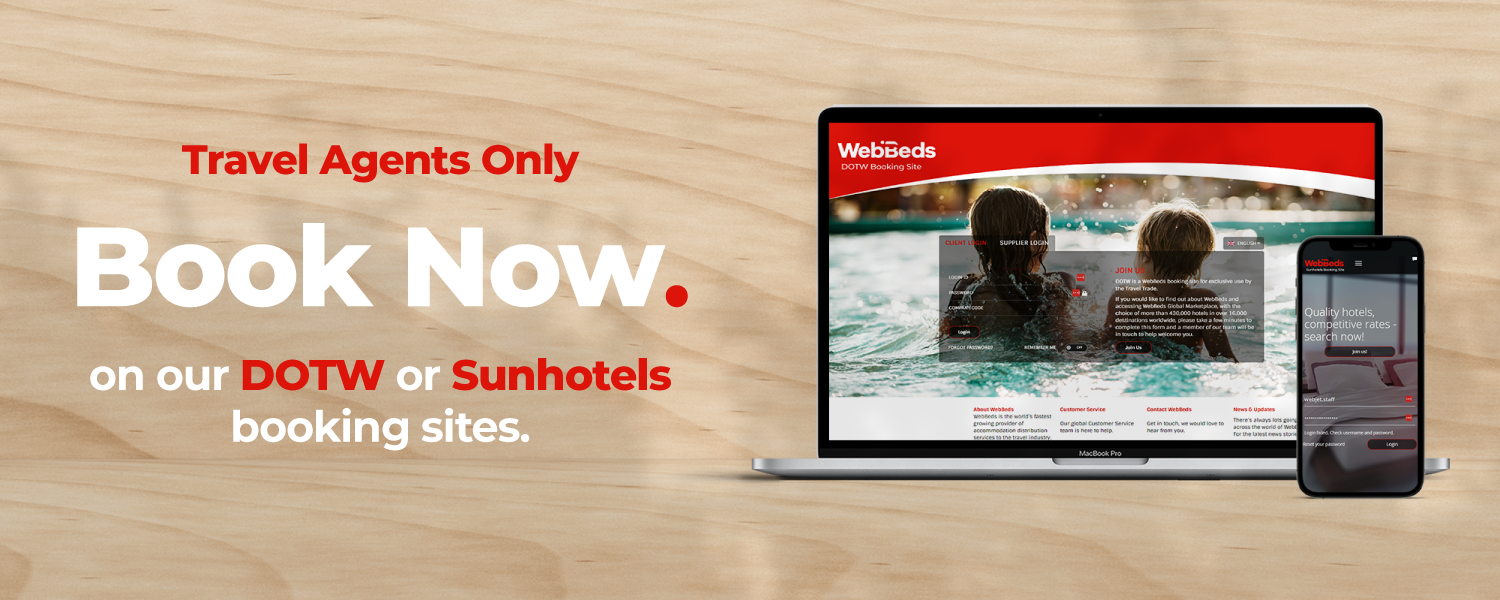 For Travel Agents.
Already booking through WebBeds?  Find these offers and more on our DOTW and Sunhotels booking sites, or deliver the content through your API feeds.
Not a WebBeds partner yet?  Find out more and get the ball rolling here: Travel Buyers – Find Out More
If you are a travel agent with a general enquiry, email: [email protected]