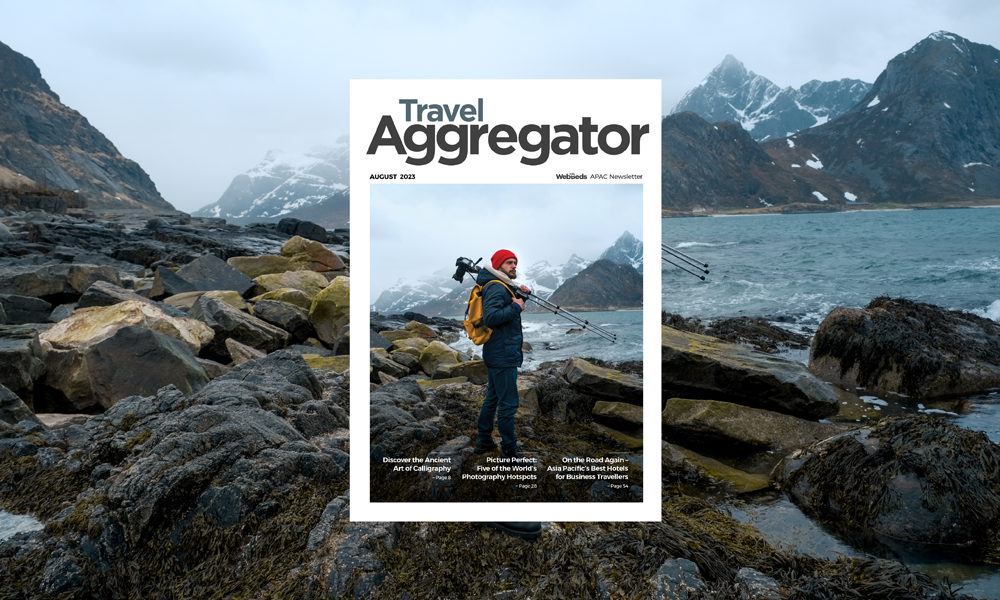 WebBeds Asia Pacific's digital travel magazine "Travel Aggregator" August 2023 edition out now.
Titled "Travel Aggregator", this eye-catching e-magazine is produced in-house by WebBeds Asia Pacific's team of travel experts, especially for our travel trade partners and clients. It includes our news and developments, plus exciting offers from our partners, a selection of the hottest hotel deals, and much more.
Welcome to the August 2023 edition of Travel Aggregator, WebBeds' monthly newsletter dedicated to the travel trade in Asia Pacific.
This month, we're celebrating World Photography Day with a review of the planet's best places to capture your most spectacular shots. Whatever type of photographer you are, we have the ultimate setting to snap the beauty of human life, inspiring architecture, breath-taking landscapes and more!
Did you know that World Calligraphy Day also falls in August? This is one of the world's most ancient artforms, dating back thousands of years and flowing through human history. If you love to explore the beauty of the written word, our insightful article will uncover some of the finest cities and museums to learn about calligraphy.
Are you planning a business trip? If so, this edition of Travel Aggregator is for you! We showcase some of Asia Pacific's most dynamic corporate districts and reveal which hotels will help to maximise your productivity.
This month, our "Featured Hotel" is the five-star Centara Grand Hotel Osaka, "Newly-Opened" checks in to Mondrian Singapore Duxton, and of course, you can catch up with all the latest news, photos and exclusive offers from WebBeds in Asia Pacific.
About Travel Aggregator Magazine
If you'd like to sign-up for Travel Aggregator, or even be featured in the next issue, please email [email protected]. Alternatively, for more information about marketing partnerships with WebBeds Asia Pacific, please email [email protected]
For more information about this story, please contact [email protected]