The United Arab Emirates continues to grow in popularity as a destination and the WebBeds Middle East & Africa team have been working closely with Department of Culture & Tourism Abu Dhabi to grow our offering in the region and deliver a wide range of services to ensure you can provide memorable experiences for your customers when traveling to the UAE. 
A country of incredible contrasts, where towering skyscrapers stand beside centuries-old mosques, thrilling theme parks juxtapose laidback beaches, and both traditional Souks and modern malls delight the avid shopper
.

Abu Dhabi, the UAE's capital, is a destination that travellers continue to visit time after time, from tours of the city's most iconic landmarks to interactive cultural experiences and events, Abu Dhabi has something for everyone.
There are many reasons to consider Abu Dhabi for your clients next holiday destination. Let's take a closer look at some of the things that make this such a desirable destination…

Rich Culture.
From arts to architecture, customs to ceremonies, Abu Dhabi boasts a rich culture both old and new. One of the country's most important heritage sites is the stunning Sheikh Zayed Grand Mosque; a marble-domed masterpiece adorned with jewel-encrusted columns, gold-plated Swarovski chandeliers and one of the largest mosaic courtyards in the world.
Feel the tranquillity at Sheikh Zayed Grand Mosque. © Department of Culture and Tourism – Abu Dhabi
Incredible Hotels
Abu Dhabi is known for its luxurious offerings, skyscraper-studded skyline is the perfect showcase of its many incredible places to stay. From luxurious penthouses right in the heart of the city, to family-friendly resorts perched on the shores of Yas Island, the range of accommodation in Abu Dhabi is diverse, but the warm, Arabian hospitality is ever-present.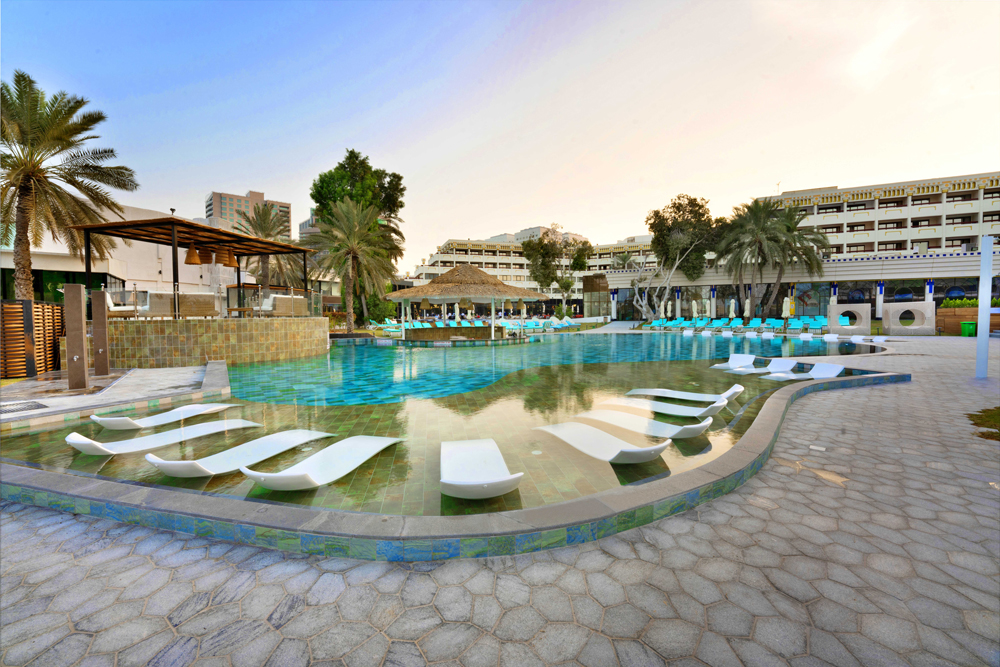 Le Meridien Abu Dhabi. © Department of Culture and Tourism – Abu Dhabi
Blissful Beaches
With year-round sunshine, Abu Dhabi makes for the perfect escape to get that well-deserved fix of vitamin D. There's plenty of beautiful beaches to be found on this Emirate archipelago, but one of the most notable is Saadiyat Beach, a sweeping stretch renowned for its pale, white sands and glistening turquoise waters. If you're extremely lucky, you may even get the chance to spot one of the endangered Hawksbill turtles that come to lay their eggs on the shore.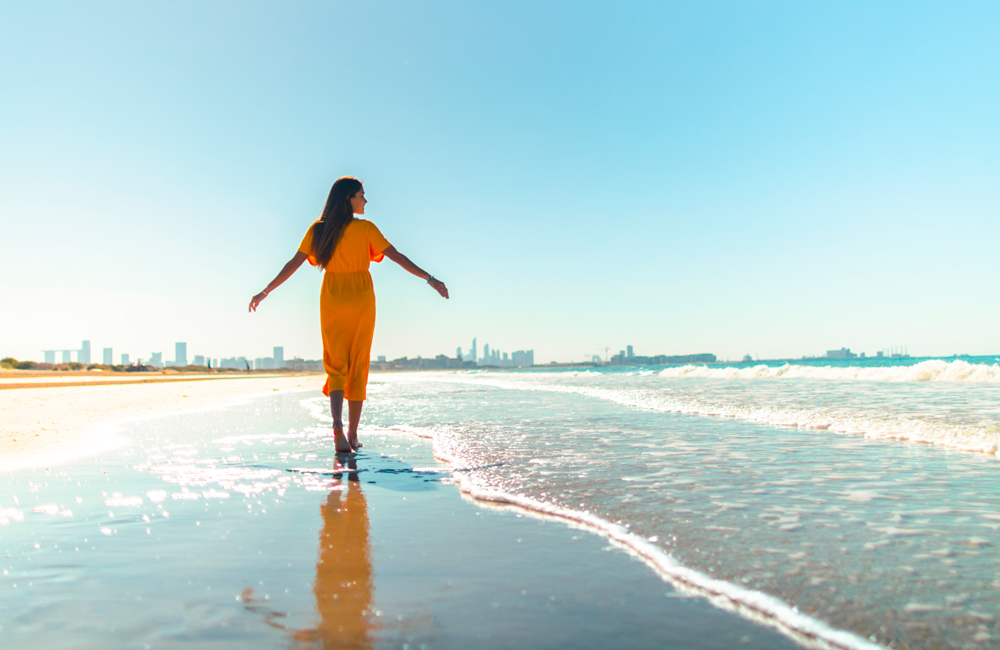 Walk down the white beaches of Saddiyat Beach. © Department of Culture and Tourism – Abu Dhabi
Nature Adventures
Abu Dhabi is the home to a diverse range of landscapes that are treat to senses. The empty Quarter or Rub' al Khali is the largest and tallest sand desert in the world. Abu Dhabi's mangroves are a hidden gem, a peaceful escape from the hustle of the city & heaven for wildlife. Standing at 1,249 metres, Jebel Hafit is Abu Dhabi's highest peak offering stunning views of the city below. with such extraordinary landscapes, comes extraordinary activities. Thrill-seekers will be in their element with the choice to sandboard or quad bike down the towering, golden slopes, hiking through Jebel Hafit and for those looking for soft adventure, camel rides, and falconry demonstrations, floating over mangrove & bird watching are excellent choices.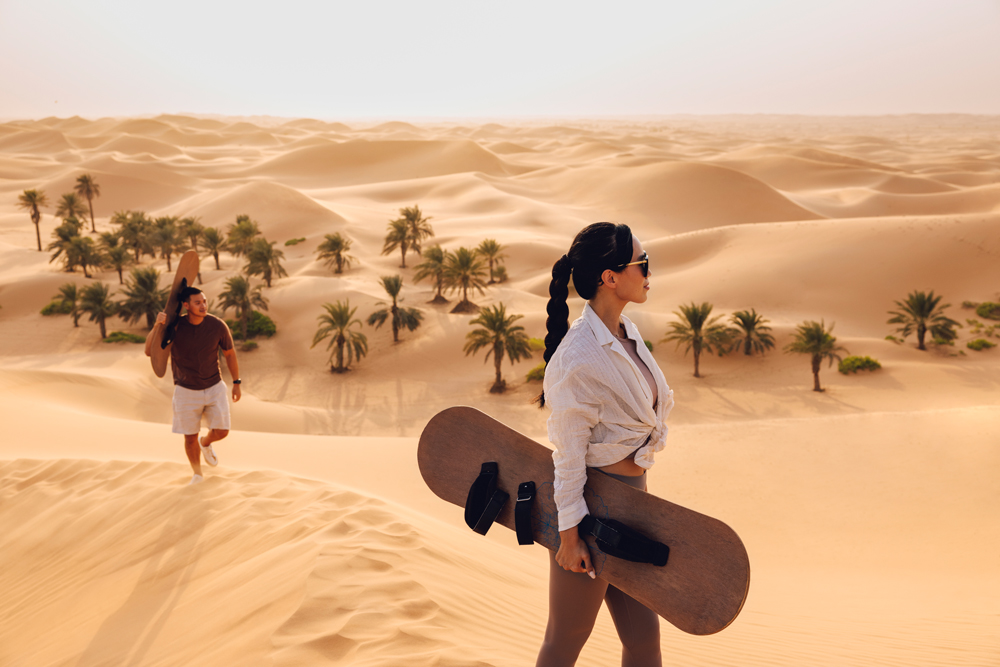 Sandboarding at Telal Resort. © Department of Culture and Tourism – Abu Dhabi
Exceptional Cuisine
It wouldn't be a visit to Abu Dhabi without trying some of the delicious Emirati cuisine on offer. Traditionally, meals burst with platters of slow-cooked lamb and chicken, accompanied alongside a mezze of aromatic rice and fresh, seasoned vegetables. After dinner, it is customary to wash down your meal with one of the fine cups of Arabic coffee the UAE is famed for. You can sample authentic dishes at most restaurants throughout the city.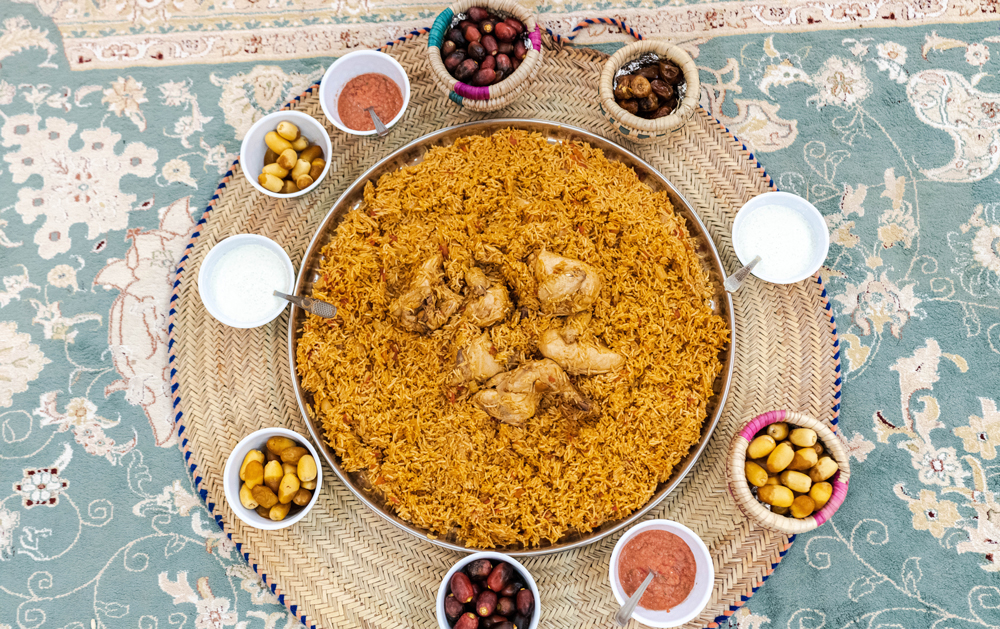 Traditional Meal With An Emirati. © Department of Culture and Tourism – Abu Dhabi
Magical Ramadan
Experience a mesmerising Ramadan in Abu Dhabi with a huge number of unmissable events, unmatched festive atmosphere and exclusive offers. Whether you're in the city for a day, a week or a whole month, there is a special Ramadan experience waiting to make your stay in Abu Dhabi a memorable one.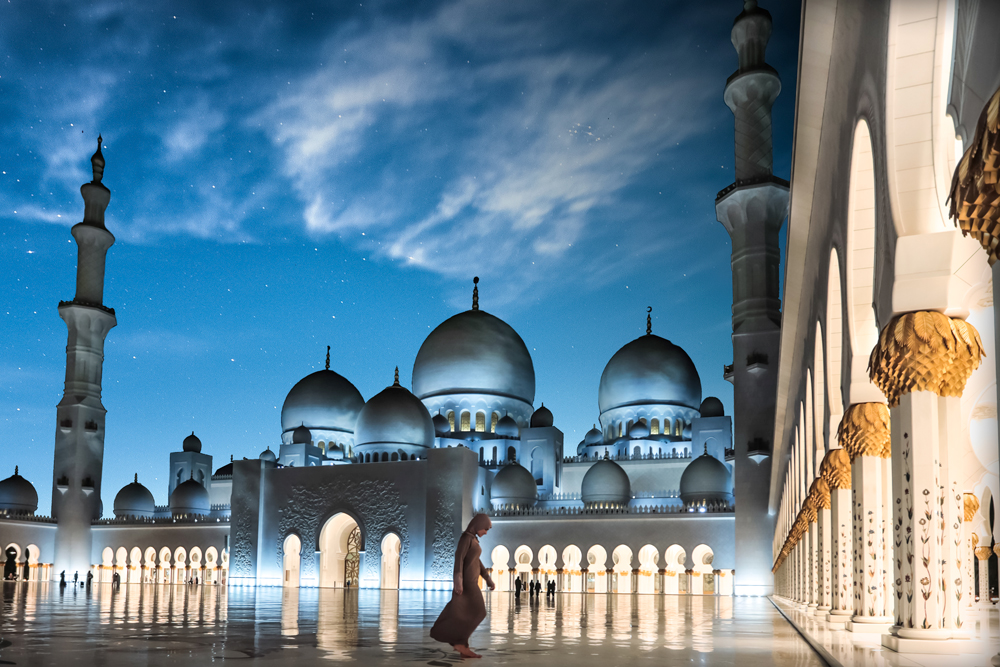 A lady in an abaya walking across the courtyard of Sheikh Zayed Grand Mosque on a starry evening. © Department of Culture and Tourism – Abu Dhabi
How to book Abu Dhabi
Book with us and get ready to experience the magic of Abu Dhabi.
For our travel partners buying from WebBeds, you can find all required details online at one of our trade only booking sites or deliver the content through your API feeds.
If you're not a WebBeds partner yet, you can find out more and get the ball rolling here: Travel Buyers – Find Out More
For more information about this story, please contact [email protected]