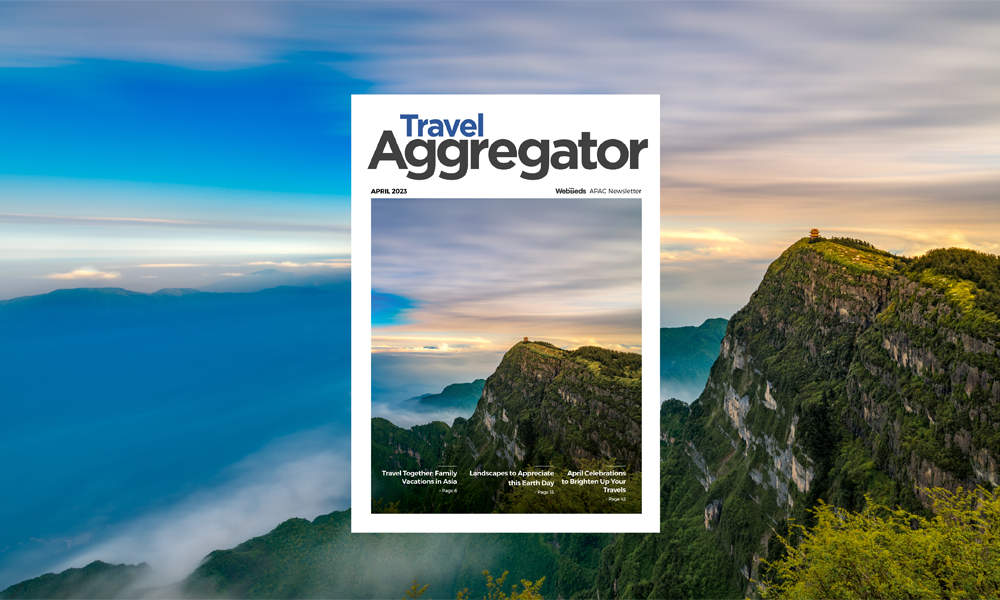 WebBeds Asia Pacific's digital travel magazine "Travel Aggregator" April 2023 edition out now.
Titled "Travel Aggregator", this eye-catching e-magazine is produced in-house by WebBeds Asia Pacific's team of travel experts, especially for our travel trade partners and clients. It includes our news and developments, plus exciting offers from our partners, a selection of the hottest hotel deals, and much more.
Earth Day, which falls on 22nd April, provides a timely reminder of the need to protect our planet. In this issue, we take a look at some of Asia Pacific's most breath-taking natural landscapes, including waterfalls, lakes, mountains, caves and forests, where we can truly appreciate the beauty of Mother Nature.
April is also a fantastic month for those who love the thrill of street parties and celebrations. Many of the world's most iconic festivals are staged this month, so travellers can uncover the vibrant culture of their destination. For families, our "Travel Together" feature will provide a range of outstanding options for parents planning a vacation with their little ones.
Also in this issue, "Newly-Opened" shines a spotlight on the Blue Story Hotel in Busan, South Korea, and our "Featured Hotel of the Month" is Homm Bliss Southbeach Patong, which is nestled on the shore in Phuket's most popular tourist district.
And of course, you can catch up with all the latest news, photos and offers from WebBeds in Asia Pacific.
Enjoy the read!
About Travel Aggregator Magazine
If you'd like to sign-up for Travel Aggregator, or even be featured in the next issue, please email [email protected]. Alternatively, for more information about marketing partnerships with WebBeds Asia Pacific, please email [email protected]
For more information about this story, please contact [email protected]