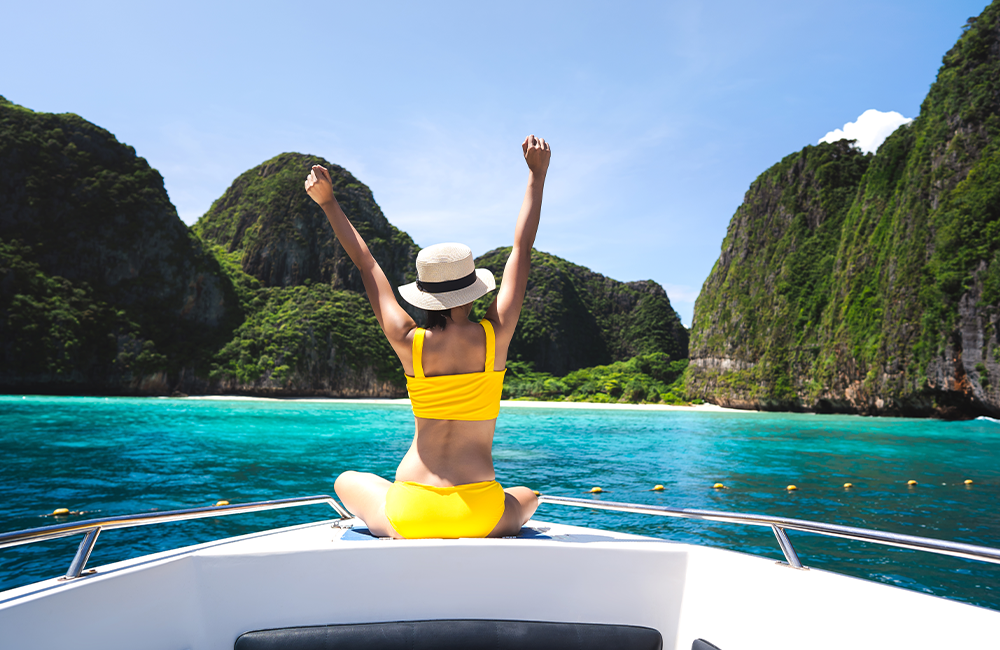 WebBeds recently hosted a major virtual event,  "The Expert's Route to Thailand", aimed at supporting tourism recovery in Thailand.
The webinar showcased the various programmes available to international guests looking to return to the "Land of Smiles". Almost 500 of WebBeds' key clients and partners from around the world came together to find out about the latest tourism initiatives, such as the "Test & Go", "Blue Zone" and "Alternative Quarantine" initiatives, allowing overseas visitors from almost every country and territory on earth to travel safely to Thailand.
As an ongoing reference tool, this information is also now available on a portal dedicated to inbound travel to Thailand. Visit: apac-marketing.webbeds.com/travel-news/thailand-reopening.
At the event, The TAT's Deputy Governor for International Marketing – Europe, Africa, Middle East & Americas, outlined the latest statistics from five of Thailand's top source markets: Germany, Russia, France, UK and USA. Hoteliers from Siam Kempinski Hotel Bangkok, The Landmark Bangkok, ONYX Hospitality Group, Meliá Hotels International and Banyan Tree then presented their Thai properties and unveiled their latest deals for inbound guests. Q&A sessions allowed attendees to address any specific areas of uncertainty or concern, and WebBeds unveiled its new dedicated web portal, containing all the most up-to-date information, useful links and hotel deals.
Attendees from key partners, including Thomas Cook, Kilroy International, Hotelplan, Lastminute.com, Mafengwo, Letsfly Tech, YB Tour, Vensimal World Travel Agents, Zenith Experiences Travel Services, Pentravel, Omeir Travel Agency and more, were offered insightful updates from WebBeds, the Tourism Authority of Thailand (TAT) and the kingdom's leading hoteliers. Mr. Chattan Kunjara Na Ayudhya.
Mr. Andy Tan, Senior Vice President & Head, Marketing & Distribution, Onyx Hospitality Group, remarked: "Working with key bedbank partners such as WebBeds have always been one of our crucial strategies to reach the global markets. This virtual event initiative and strong turnout is a great example of the value working with WebBeds brings."
Mr. Chattan Kunjara Na Ayudhya, Deputy Governor for International Marketing – Europe, Africa, Middle East & Americas, TAT, commented: "We truly appreciate this activity from WebBeds, which will help to engage with the travel trade and support the recovery of international arrivals to Thailand. With our three reopening programs in place and upcoming additions of more Thai tourist destinations deemed ready to again receive international visitors, such strong support from our friends and colleagues in the travel industry will give every traveller the knowledge and confidence to book a vacation in Thailand."
Ms. Panjamas Ngamsantikul, Senior Director of Sales, The Landmark Bangkok, said that she appreciated the quality of the webinar and its attendees. "This was an excellent opportunity to showcase our property to top clients from many of our biggest source markets. We were thrilled by the turnout, which demonstrates the value of working with WebBeds. We have seen a 122% increment of average room nights from WebBeds since the event and look forward to greeting the rising number of guests in future."
Ms. Emma King, Head of Commercial Product, Thomas Cook, stated: "This was a really well organised and insightful event, which provided in-depth updates on the latest requirements for visiting Thailand. The video content, clear information about vaccination and testing requirements, and introductions to local hoteliers were especially useful. I would like to congratulate WebBeds on doing a great job; we would welcome more of these events in future."
Thailand is one of the world's most popular places to visit, attracting 39.9 million international arrivals in 2019 and accounting for approximately 11% of WebBeds' business in Asia Pacific. It has also been one of the most proactive countries in Asia Pacific, in terms of safely easing entry restrictions. The launch of the "Phuket Sandbox" on 1st July 2021 helped to kickstart the country's inbound sector and laid the foundations for the comprehensive reopening of the tourism economy on 1st November 2021.
Mr. Kok Sheng Sun, President – Asia Pacific, WebBeds, said: "Thailand is a vital market for WebBeds. Most hotels are badly affected by the pandemic, some even had to undergo re-branding and a change of management to improve their performance. WebBeds is always looking for ways to value-add and assist our hotel partners, be it with distribution diversification or professional insight and intelligence, to enable them to maximise their business. By hosting this virtual event, setting up dedicated communication channels for developing travel requirements and creating a dedicated portal for the latest news, hotel offers and more, we've showcased how we add value to all our partners and drive the revival of global travel. We are always stronger when we work together."
Ms. Jintana Porntanapat, General Manager – Thailand & Indochina, WebBeds, added: "We were delighted to welcome so many of our esteemed partners and clients at this important virtual gathering. The event was very well-received by our partners. The great number of detailed questions and enthusiasm from the participants particularly in the live chat sessions further reaffirmed the significance the event was as a platform for all our partners. Cooperation and collaboration are always the keys to success, and I look forward to working closely with our highly respected hoteliers in Thailand in future to ensure their continued success."
Now, guests who want to rediscover Thailand have three options.
The "Test & Go" programme is valid for fully-vaccinated travellers from 63 countries and territories worldwide, including Australia, China, France, Germany, India, Japan, Singapore, South Korea, UAE, UK and USA, and offers unrestricted travel throughout country. Visitors need to take a RT-PCR test upon arrival and spend their first night in an approved hotel or resort¹.
Under the "Blue Zone" initiative, fully-vaccinated citizens from all other countries², including Russia, can enjoy quarantine-free stays in 26 selected Thai regions, including all the major tourism hubs such as Bangkok, Chiang Mai, Hua Hin, Koh Samui, Krabi, Pattaya, Phuket and more. The first seven days must be spent within the chosen destination, staying in certified accommodation, before travellers are able to explore other parts of Thailand¹.
Finally, the "Alternative Quarantine" (AQ) system enables all vaccinated or unvaccinated guests to visit Thailand, as long as they spend the first seven, 10 or 14 days³ of their stay in a certified AQ hotel¹.
With these innovative measures now firmly in place, Thailand is now looking forward to a strong rebound of inbound business in the winter high season, followed by a sustained upswing in 2022 and beyond.
WebBeds' dedicated portal for inbound travel to Thailand is now live! For the latest information, useful links and hotel offers, please visit: apac-marketing.webbeds.com/travel-news/thailand-reopening.
¹ Other terms of entry apply. The mandatory stay might be reduced to five days from the current seven days for fully-vaccinated travellers with effect from 16 December 2021. For full details, please CLICK HERE to visit WebBeds' new information portal.
² Effective 1st December 2021, visitors from Botswana, Eswatini, Lesotho, Malawi, Mozambique, Namibia, South Africa and Zimbabwe are unable to travel to Thailand.
³ The required AQ period is 5 days for fully-vaccinated travellers (reduced from the current 7 days with effect from 16 December 2021), 10 days for partially-vaccinated and unvaccinated travellers arriving by air and sea, and 14 days for partially-vaccinated and unvaccinated travellers arriving overland.
For more information about this story, please contact [email protected]