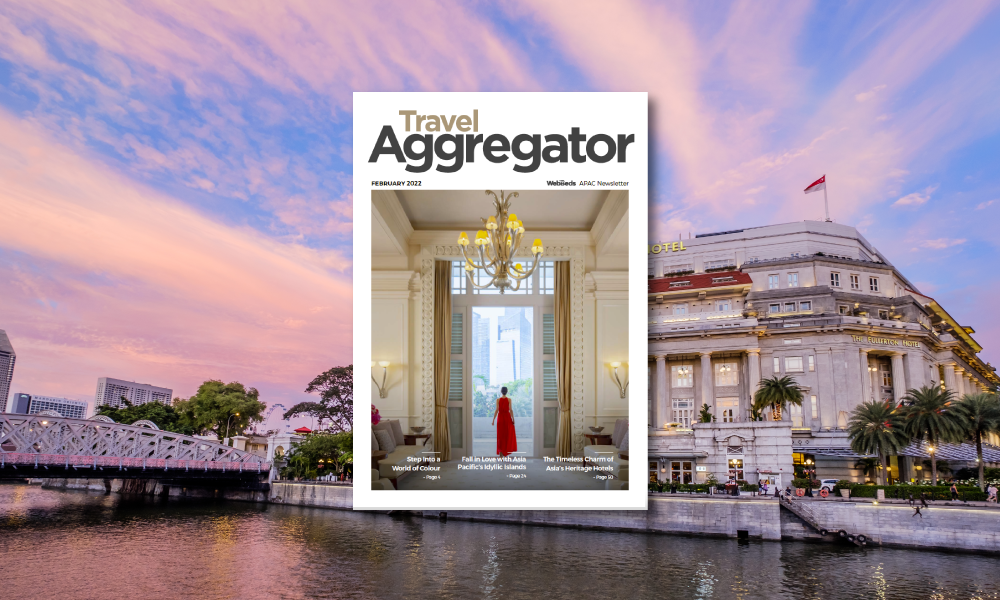 WebBeds Asia Pacific's digital travel magazine "Travel Aggregator" February edition out now.
Titled "Travel Aggregator", this eye-catching e-magazine is produced in-house by WebBeds Asia Pacific's team of travel experts, especially for our travel trade partners and clients. It includes our news and developments, plus exciting offers from our partners, a selection of the hottest hotel deals, and much more.
February is known as the "Month of Love" so this edition is dedicated to the romance of travel. Asia Pacific is home to many of the most dreamy destinations on Earth, so we reveal a collection of exotic islands and romantic resorts that are sure to fan the flames of passion, from the Andaman Sea to the South Pacific. And if you want to recapture the grace and glamour of a bygone era, our feature on Asia's finest heritage hotels will transport you back to a golden age of exploration.
Wherever you travel, make sure you stay in style! We're proud to introduce the 2022 Hotel Lookbook, our annual curated collection of the finest hotels and resorts on the planet!
As winter draws to a close and the world starts to warm up, many parts of Asia Pacific are bathed in a kaleidoscope of colours. This month, we want to brighten up your travels by showcasing the region's most vibrant blue, green, gold and red landscapes. Mother Nature's palette never fails to stimulate the senses and excite emotions, so let us inspire you with a world of colour.
Much of Asia is currently welcoming the "Year of the Tiger" with spectacular celebrations and family feasts, so we take a look at the traditional foods of Chinese New Year and how they symbolise health, wealth and prosperity. Finally, you can catch up with all the latest news, photos, and exclusive offers from WebBeds in Asia Pacific.
We're all looking forward to a better year ahead, and WedBeds would like to wish all our readers a very happy Lunar New Year!
About Travel Aggregator Magazine
If you'd like to sign-up for Travel Aggregator, or even be featured in the next issue, please email [email protected]. Alternatively, for more information about marketing partnerships with WebBeds Asia Pacific, please email [email protected]
For more information about this story, please contact [email protected]