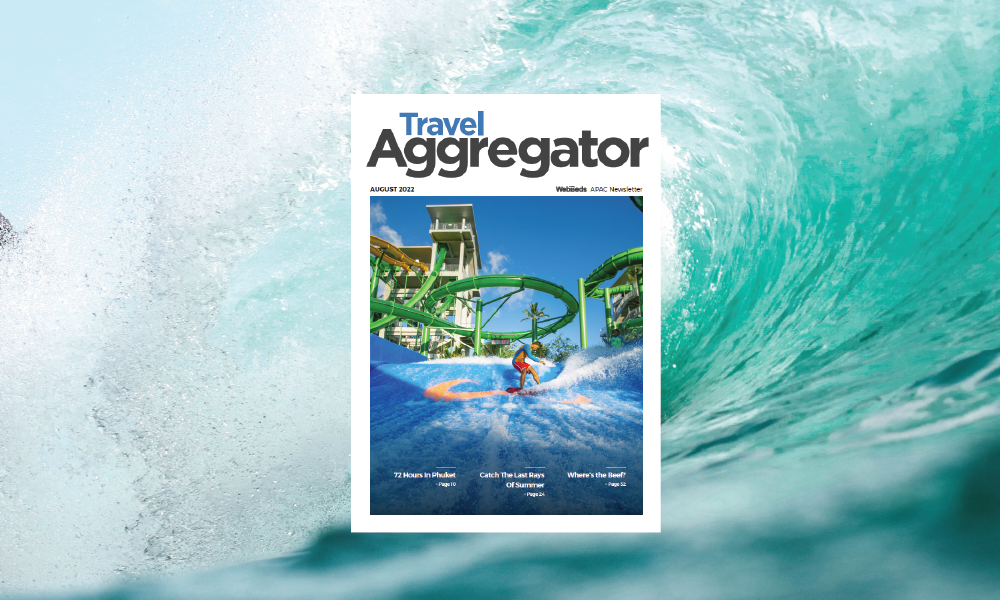 WebBeds Asia Pacific's digital travel magazine "Travel Aggregator" August edition out now.
Titled "Travel Aggregator", this eye-catching e-magazine is produced in-house by WebBeds Asia Pacific's team of travel experts, especially for our travel trade partners and clients. It includes our news and developments, plus exciting offers from our partners, a selection of the hottest hotel deals, and much more.
Welcome to the August 2022 edition of Travel Aggregator – WebBeds' newsletter dedicated to the travel trade in Asia Pacific!
While it may feel like summer is coming to an end, there is still plenty of time to catch the sun's last rays and enjoy exciting activities across Asia. In this issue, we want to inspire you to embrace the great outdoors! Try cycling in Singapore and Vietnam, diving in the Philippines and the Maldives, or making a splash at water parks in Bali and India.
With Thailand now fully open to international visitors, WebBeds invites you to spend "72 Hours in Phuket". Check out our immersive three-day itinerary which uncovers the top attractions and activities in this popular resort destination, from the cultural heritage of Phuket Town to the blissful beaches of the west coast and much more – including the best places to stay.
Also in this edition, we're embarking on a culinary journey across Asia Pacific to discover the region's most mouth-watering meats! From ultra-tender wagyu beef to luscious lamb and more, this is the ultimate adventure for keen carnivores.
In our new "Ask the Insider" feature, we chat to our clients and learn about what motivates them to travel, and "Newly Opened" offers an exclusive glimpse of one of Asia's newest places to stay: Komune Living & Wellness in Kuala Lumpur. Finally, you can take part in our monthly quiz and catch up with all the latest news, photos and exclusive offers from WebBeds in Asia Pacific.
About Travel Aggregator Magazine
If you'd like to sign-up for Travel Aggregator, or even be featured in the next issue, please email [email protected]. Alternatively, for more information about marketing partnerships with WebBeds Asia Pacific, please email [email protected]
For more information about this story, please contact [email protected]